Fd: How did art merge with fly fishing in your life?

TS:
 As far back as I can remember, I have had a love for both drawing and fishing; however, it wasn't until the fall in 2009 when it occurred to me that I could or "should" merge the two. It had been close to ten years since I had drawn anything, and during those ten years, time spent fishing was almost nonexistent. I believe it was the summer of 2009 when I had met up with a couple of buddies that I used to fish and camp with quite a bit, they talked me in to going out and getting back up in the high country and start fishing again. I recall having such a good time, and wondering why I had not been doing this all along.
It was during this same time that one of the same guys that got me back into fishing, also started up a local fishing forum. He had asked me to help with the artwork, graphics and some content with the new website. During this process, I came across some artwork from A.D. Maddox that one of the members had posted, and I was instantly a fan. I could see the passion in her work, and it was ultimately what caused me to dig through my house and find my box of colored pencils, build a drawing desk, and see if I could draw a fish.
I had completed my first few drawings, and I was starting to receive quite a few compliments from my friends and family as well as people that I didn't know. I had quite a few requests for prints, but I had no idea how to make them or go about any of the processes. At this time, I thought that I might contact A.D. in hopes of getting some advice and perhaps some guidance with regards to the art industry. I was pleasantly surprised with her willingness to share information and chat about artwork, the business side of it, and fishing in general. She was also very encouraging with respect to my drawings, and I give her a lot of credit for helping me believe I could do something with my artwork.
Fd: What is the process behind your works?

TS:
As far as my technique goes, I work almost exclusively with colored pencils on a variety of papers. I almost always work from photographs that really catch my eye. I tend to key in on certain aspects of a great photo, and concentrate or elaborate on them. I really do enjoy the wet glossy look of trout and the water in general, and I tend to create my drawings around that. I enjoy working on the water and reflections every bit as much as the fish in my drawings. My process actually varies from piece to piece. Each drawing takes on its own personality; some are stubborn and fight me the whole way through, while others tend to draw themselves so to speak. My process generally just consists of deciding on the size, roughly drawing out the basics, then usually getting some color down as quick as possible. I tend to be somewhat impatient when I draw, I like to see the drawing take shape and start to "pop" relatively soon after I start a new drawing. I almost always start with the fish's eye, I can generally tell how the drawing may turn out based on if I can capture the right expression and attitude of the fish.
Fd: Any time for fly fishing? What are your favorite species and spots?

TS:
This year has been particularly busy with a wide variety of curve balls that life tends to throw at you. I definitely have not been out as much as I would like to this year, or have learned as much as I would have like to either. I am looking forward to this coming fall, I plan on making up for time not spent on the water all year.
As far as my favorite species goes, that is hard to say. There is nothing quite like a big male October Brook Trout, or beautiful high country, small stream Cutthroat, and I am particularly fond of and big, healthy scud fed Rainbows, however I would have to say Brown Trout would have to be my favorite, but not by much though. There is just something about a Brown Trout that I have always loved. With regards to my favorite spots, I tend to find myself driving for several hours, or just hiking a ways off the beaten path to get away from the crowds. I generally like small streams and still waters that don't get a lot of pressure. Not only is it nice to get away from people, it also helps me think I know what I am doing when the fish are not too picky…
Fd:
Are you working on a current project these days?

TS:
Yes, I generally have about three or four projects "on deck" so to speak. I have some late summer shows that I will be attending, and as soon as they are over, I will be hitting the drawing desk again. I can't wait to get started on them, I have had way too many distractions this year, and I am looking forward to "getting lost" in some new drawings. One of them is an underwater shot of little Cutthroat that I caught this summer up in the Uintahs. I generally have a hard time taking decent photos of fish to work on, but I got kind of lucky with this one.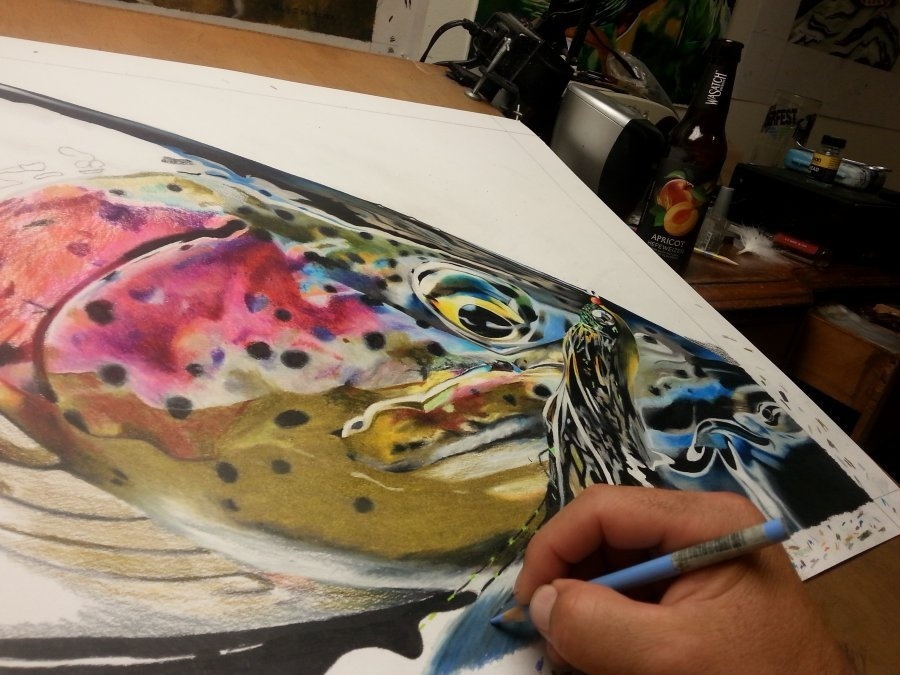 Fd: Where can we find more about your artwork (on products, galleries, books, website, etc.)?

TS:
You can see all of my artwork on my site;
TravzArt.com.
I have posted all of my trout drawings, some of my Digital Art that I have created from my original pencil drawings, as well as some of my early abstract artwork. I currently am working with several companies with regards to my artwork and products. Montana Fly Company was the first company to contact me with interest in my artwork on their products, I currently have some of my artwork on their "River Camo" product line which includes fly boxes, flasks, reels, water bottles, phone covers and sun protection. Fincognito is an apparel company that I am currently working with, they have used a few pieces on some shirts and hoodies. Reel Rage Outfitters is another company that I am working with, they have created some very nice products such as stone coaster sets, mouse pads and aluminum prints. I currently have a couple of deals in the works that I am very excited about that I hope come to fruition this fall.
I do have some originals on display at the South Fork Lodge in Swan Valley Idaho, Falcons Ledge Lodge in Altamont Utah, and the Fulton Street Showroom in Boise Idaho. I also have consignment deals with several local fly shops as well as fly shops around the west to sell my prints on a consignment basis, and I am always happy to accommodate fly shops and lodges with requests to display or sell some of my Giclee fine art prints. My work has been published in "Fly Rod & Reel", "American Angler" and "Vliegvisser" magazines.