There is no doubt that classic streamers and bucktails fish well. Nevertheless, if we apply the same care and dedication that we do with when tying dries and nymphs in its different stages, to imitate smaller fish perfectly, we will get surprisingly effective patterns. Trout and many other fish can View more...
Move the mouse over the image to zoom in the fly. Touch the image to zoom in the fly.
List of materials
Tying MaterialsHook: Daiichi 2370 or 1750, sizes 12 to 2.Thread: 8/0, white.Body: metallic silver tinsel.Wings 1: two grizzly saddles, dyed yellow.Back and wings 2: Brown bucktail, dyed olive.Belly: White bucktail.Eyes: yellow, with black pupil.
Steps
Step 1
Tie the metallic silver tinsel behind the hook eye, wrapping it without pushing together the turns at the back. Then go back to the front and trim. No space should be between the tinsel rounds, so these do not move or slide and remain perfectly locked.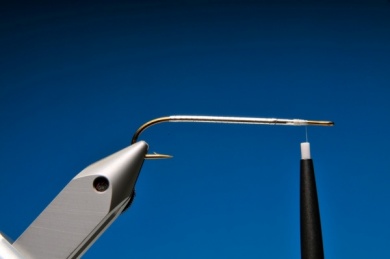 Step 2
Choose fine feathers and tie the two grizzly saddles. These should remain vertical and tight to the hook, and overhanging just a bit past the hook bend. An option is to tie four strands of orange Krystal Flash before the feathers.
Step 3
Carefully pull a white bucktail bundle so that it covers just the lower side of the fly, and tie it towards the front. It should be long enough so that when the bundle is bent backwards it reaches the tip of the grizzly feathers.
Step 4
Tie the olive dyed brown bucktail in the same way. Generally, the brown part of an olive dyed deer tail is used; if it is long enough. If not, use the long part of the bucktail, that is olive color dyed over white. Try to use dark olive.
Step 5
Go back with the thread a millimeter before the feather wings. Carefully, turn the belly and the back, tying as you keep the head tight by pulling the hair back. We can tie both bundles at the same time or one by one. The head should remain tense, and the white and dark colors in its corresponding side.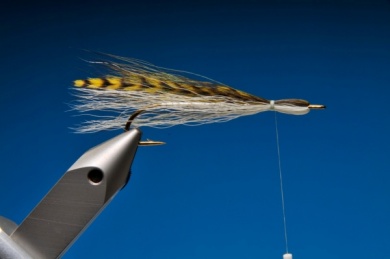 Step 6
Cover the head with a fine layer of transparent 5-minute epoxy, removing excesses and turning the fly so the epoxy evens out with a slightly tapered shape.
Step 7
Let the first layer of epoxy dry, apply the adhesive eyes and add another very fine layer of epoxy. We can see the finished fly in the picture; it has some Krystal Flash under the grizzly feathers. We can paint a red detail with enamel or model-aircraft paint to simulate the gills. This way, our Argentine Perch Thunder Creek is ready for the river.