Gebunden und fotografiert von Rudolf ThurnerDas vorliegente Muster eignet sichsehr gut dafür, daß man es so richtig mi Bleidraht voll packt, um auchin schnellen tiefen Partien rasch in Grundnähe zu kommen.
Move the mouse over the image to zoom in the fly. Touch the image to zoom in the fly.
List of materials
Material: Haken: Shrimps-Haken, Größe 10-16Bindeseide: Power Silk, weiß 10/0Beschwerung: Bleidraht, feinFühler: RebhuhnrupfRippung: Monofil, transparentRücken: Magic Shrimp Foil oder PlastikfolieKörper: Rabbit Dubbing,graubraun mixBeinchen: Körper Dubbingmaterial ausgezupftKöpfchen: Bindeseide
Steps
Step 1
Nach der Grundwicklung Fühler und Bleidraht anlegen.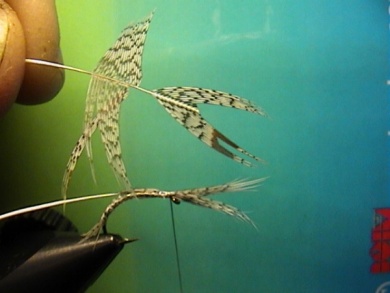 Step 2
Bleidraht mit Kreuzwicklung und Lack gut fixieren.
Step 3
Beim Hakenbogen Rippungsmonofil und Folie für Rücken einbinden.
Step 4
Mittels Doppelschlaufentechnik Dubbing verdrallen und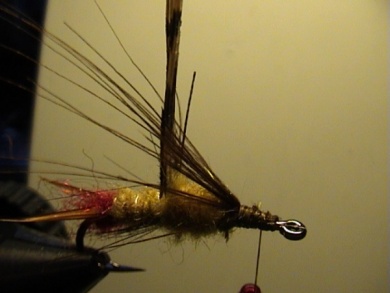 Step 5
einen schönen Körper formen.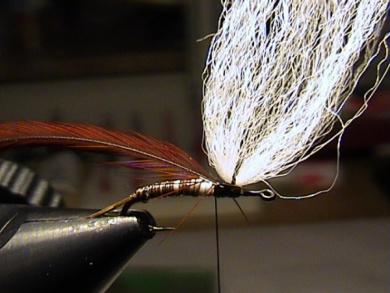 Step 6
Magic Shrimp Foil über den Körper legen und beim Öhr festbinden.
Step 7
Mit Monofil oder feinem Draht wird die Rippung durchgeführt.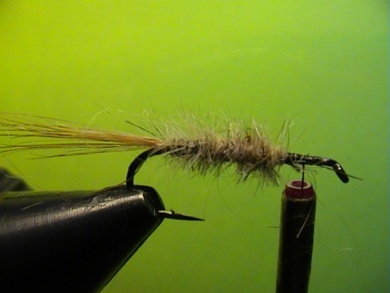 Step 8
Mit dem Whip-Finisher wird das Köpfchen angefertigtund mit dem lackieren des Köpfchens wird diese Gammerus-Muster abgeschlossen.