After creating the R Nimph, I thought that I could add to the group of emerging flies also the Cripple imitation. The Cripple imitates the nymphs emerging, having trouble to get rid of shuck, remain trapped in the surface film of the water and are transported for long distances by the current. The f View more...
Move the mouse over the image to zoom in the fly. Touch the image to zoom in the fly.
List of materials
Hook: Grub size 12/14/16 Insect's shuck: A CDC Hackle Body: Two CDC hackles with wrapped on them a stripped peacock quill. Wings: CDC fibers.
Steps
Step 1
Strain along the quill the fibers of a CDC feather and tie it on a grub hook
Step 2
Converge the fibers of the base of the hackle with the fibers that exceed from the extended body, and tie it on the hook.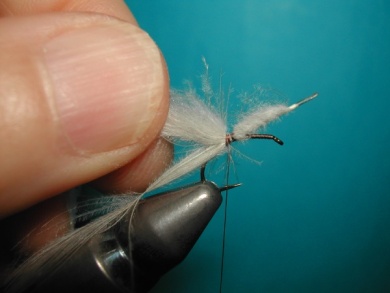 Step 3
Cut the excess of the feather.
Step 4
Fix one or two feather of CDC (depends on how thick their fibers are) near the extended body and cut excesses
Step 5
wet the fibers that exceed from extended body so they do not disturb the operation that I am doing.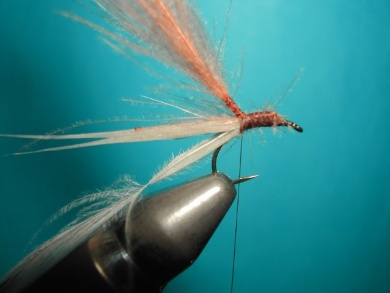 Step 6
Take a stripped peacock quill
Step 7
Tie quill on hook and wrap the tying thread around it and the two feathers, which I keep in tension with fingers.
Step 8
When I reach the length that I intend to give the body that comes from the insect's shuck, I go back, crossing the coils of tying thread with those wrapped previously.
Step 9
Wrap the quill arond the two CDC hackles
Step 10
Tie the quill on hook and cut excess.
Step 11
I dry the CDC fibers.
Step 12
I bring forward the fibers, without stretch them, tie them next the eye of the hook and cut excesses
Step 13
Lean forward the body of the fly, and after to have stretched the fibers of the tips of the feathers along the quill, I tie them next to the eye of the hook.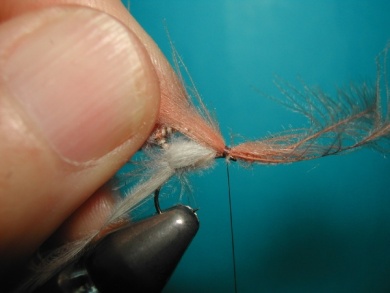 Step 14
Cut excesses of the two hackles.
Step 15
Tie the head of the fly.
Step 16
Trim the tip of the feather with whom I have created the extended body, leaving two fibers to imitate the tails.
Step 17
Trim a part of the fibers of the tails