Few years ago, recalling the Tube flies that are constructed of metal tubes or plastic to get big flies, to be used in fresh and salt water, I had the idea to create a dry tube fly.
Move the mouse over the image to zoom in the fly. Touch the image to zoom in the fly.
List of materials
A plastic tube Thread: 8/0 Body: A tube body Wings: Poly yarn Hackle: Rooster hackle.
Steps
Step 1
I insert in the tool a plastic tube.
Step 2
I tie a tube body on the plastic tube.
Step 3
I tie a tuft of poly to get the wings.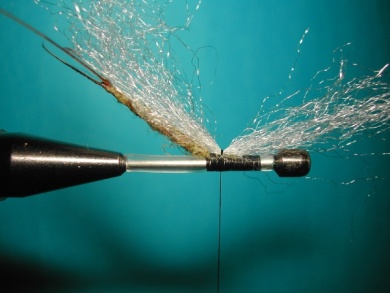 Step 4
I lift the wings with a few turns of tying thread
Step 5
I tie a rooster hackle near the wings
Step 6
I wrap hackle around the plastic tube, tie it and cut excess.
Step 7
I make the final knot.
Step 8
I establish the height of the wings with a cut.