Most big browns from Patagonia owe their size to a rich diet based on a type of crayfish called pancora. There are big quantities of them in some rivers, this is why we must make good imitations if we want to catch these fish.Several years ago, after tying green Woolly Buggers that also imitate perf View more...
Move the mouse over the image to zoom in the fly. Touch the image to zoom in the fly.
List of materials
Tying MaterialsHook: salmón Daiichi 2441, sizes 2 to 6.Thread: 6/0 or 8/0, fluorescent orange.Weighing: tungsten or lead wire, as thick as the hook.Tail (pancora head): orange Marabou and pheasant feather fibers.Claws: grizzly rooster feather tips, olive, and some orange.Eyes: black. Plastic, pearls or burnt nylon.Belly: back part of a grizzly saddle, olive.Body: Hareline trilobal dubbing, hot orange color. Or any bright orange dubbing.Back: green feather from the back of a male pheasant collar View more...
Steps
Step 1
Make a dozen turns with the wire. Closer to the head so it swims in a more attractive way.
Step 2
To make the face of this pancora, tie the marabou fibers (not too long). Over them, a bundle of pheasant fibers (found close to the tail of the pheasant, also used for spey flies).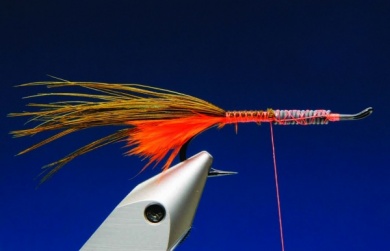 Step 3
Take some saddle tips, olive and orange. Tie them sideways and open to make the claws.
Step 4
Tie the saddle section, very feathery, that will be a part of the back of the fly. The concave side of the feather facing upwards. Then tie the feather that will make the belly.
Step 5
After tying the belly feather, tie the rubber legs in pairs without trimming yet.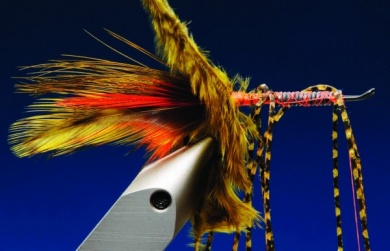 Step 6
Tie a dubbing body, from the head to the back and then to the head again. Loosen some hair with a wire brush or a needle, this gives more life to a fly.
Step 7
Carefully lower the upper part and tie at the head. Take the marabou fibers that are too long so it's easier to tie and neater.
Step 8
Tie the lower part on the belly, just like we did before in the previous step..
Step 9
To add some brightness and color to the back, tie a collar pheasant feather, those with a metallic green color. This does not change the fly but it makes it look more attractive.
Step 10
Cement the head with lacquer or epoxy and our Green Death is ready to fish.