As I crossed the rooster hackle around the X of foam for tie the Thorax, I thought that, if I had wrapped a 45 ° tilted forward, I would get slimmer imitation, with the collar hackles of fly that, instead of penetrating water, is placed on the surface.
Years before, I had tried to bend the hooks View more...
Move the mouse over the image to zoom in the fly. Touch the image to zoom in the fly.
List of materials
Hook: TMC 100 size 12/14/16 Thread: 8/0 Tails: Coq de Leon fibers Ribbing: oval tinsel Body: Poly thread Thorax: Two foam strips Wings: Poly yarn Hckle: rooster
Steps
Step 1
I tie the tails and abdomen of the fly on a right hook, then tie also a rooster hackle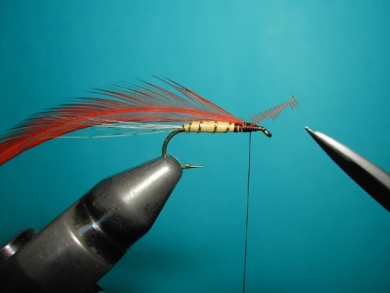 Step 2
Over and under the hook, I tie two foam strip.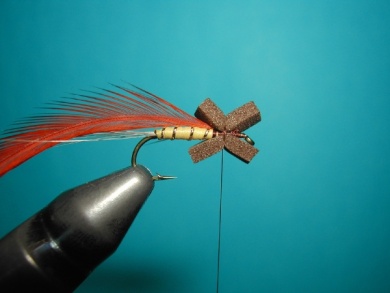 Step 3
On the superior strip, I tie a polypropylene yarn.
Step 4
Pulling the tying thread, the yarn enters the foam strip and gets up.
Step 5
I wrap the hackle tilted downward.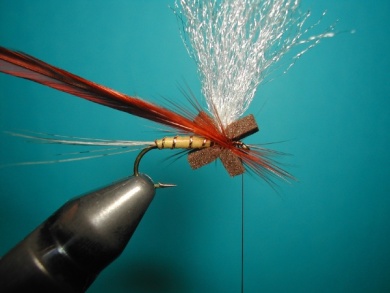 Step 6
I tie hackle near the eye of hook and cut excess.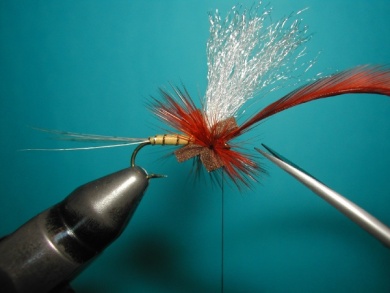 Step 7
I tie the head of the fly.
Step 8
Take off the fly from the vise and cut the excesses of the foam strips
Step 9
I establish the height of wings with a cut.