Since I first saw the Matukas I fell in love with its intelligent design. The first ones were tied with heron feathers, but when those were difficult to obtain, anglers started using hen, rooster and other kinds of feathers. It's not easy to improve an traditional Matuka, in fact each variant work View more...
Move the mouse over the image to zoom in the fly. Touch the image to zoom in the fly.
List of materials
MATERIALSPlastic, aluminum or copper tube.Thread: black, 8/0.BUTT: Dubbing, color hot pink of antron or similar, as bright as possible.BODY: silver or gold, broad holographic tinsel.RIBBING: copper wire of .25 mm, color blue.SUPERIOR WING: 2 to 4 saddle feathers of grizzly rooster, dyed color chartreuse.BELLY 2: rooster saddle feathers, white.COLLAR: guinea hen feather, color chartreuse.CHEEKS: Jungle Cock.HEAD: black thread, with a UV resin layer. View more...
Steps
Step 1
Tie the copper wire tightly, from the front to the back.
Step 2
Use dubbing -color hot pink- to form a butt. I use two layers of dubbing, but not too bulky for it would raise the wing.
Step 3
Tie the tinsel at the front, go back. The to the front and tie.
Step 4
Prepare the feathers, take off the fibers from the side we'll place on the hook.
Step 5
Make the ribbing holding the wing and belly. Use a needle for help between the feather fibers. Tie when reaching the head. Eliminate the tip from the belly.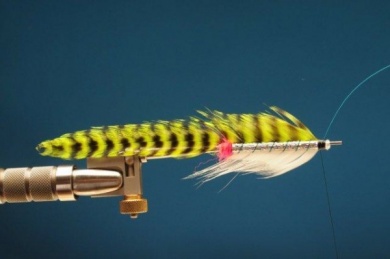 Step 6
Make a collar with 3 to 5 turns with the guinea hen feather. The fibers shouldn't cover the white belly.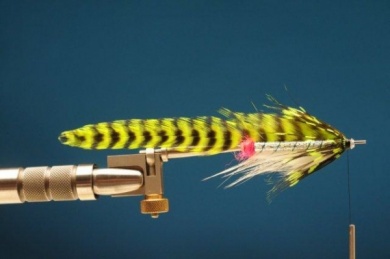 Step 7
Place the jungle cock and finish with a conic, short, tidy head. The conic shape of the neck and the head should be sized harmoniously.
Step 8
Finished M.M. Double Tuka.