This famous fly was designed to imitate large dark stonefly nymphs of North America. It was first tied by Lew Oatman of New York. The stonefly nymph essentially lives in fast flowing freestone rivers. This style of nymph has a large two-tone thorax. It is really simple to tie and it only requires tw View more...
Move the mouse over the image to zoom in the fly. Touch the image to zoom in the fly.
List of materials
MATERIALSHook: Mustad 9671 or similar, sizes #10 to #16 (micro chenille is recommended for the smallest ones).Thread: 6/0 or 8/0, black.Tail: black rooster feather fibers.Abdomen: black Vernille.Thorax: yellow Chenille, medium.Wingcase: black Vernille, double.Legs: Palmered black rooster feather.
Steps
Step 1
Tie some black rooster feather fibers to make the tail.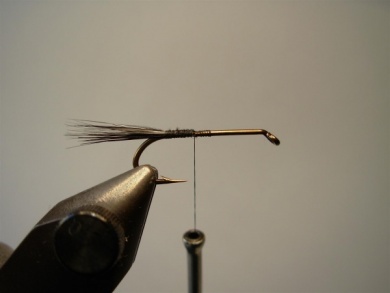 Step 2
Tie a piece of black Vernille right at the base of the tail.
Step 3
Wrap the black Vernille to cover approximately 60% of the hook shank. Make sure it´s tight, and then cut.
Step 4
Tie the double Vernille where the thorax will be, right until it reaches the abdomen.
Step 5
Tie the yellow Chenille and the black rooster feather. Both of them should also be right beside the abdomen.
Step 6
Wrap the yellow Chenille almost until it gets to the hook eye to shape the thorax.
Step 7
Wrap the black rooster feather over the yellow Chenille, in a Palmer way. Set this tight, right next to the hook eye as well.
Step 8
Take the two Vernille strips to the front of the fly and tie them, simultaneously, at the hook eye. This will shape the wingcase. Cut the remaining parts, whip finish and cemment.