My parachute is a fly pattern that has the characteristic of being constructed using a foam strip as post to wrap the hackle rooster: this is the spent version
Move the mouse over the image to zoom in the fly. Touch the image to zoom in the fly.
List of materials
Hook TMC 100 size 14 Thread: Brown 8/0 Tails: Gallo Pardo fibers Body:Pale Brown Thread Ribbing: Wire Oval Gold Post: foam strip Wings: Whitw Poly yarn Hackle: Red rooster
Steps
Step 1
I tie the tails and the abdomen of fly on a right hook.
Step 2
Tie a foam strip near the abdomen.
Step 3
I keep a slot of polypropylene yarn placed under the hook shank and tie it between the foam strip and the shank of the hook.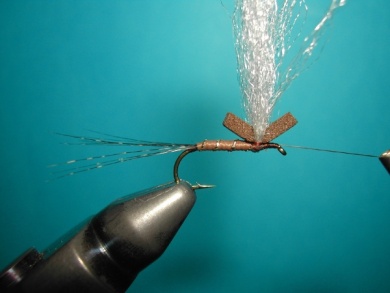 Step 4
Tie a rooster hackle on the hook.
Step 6
I tie the chest of fly with dubbing, then wrap the hackle under the foam strip, tie it on hook and cut excess.
Step 7
Tie the head of fly.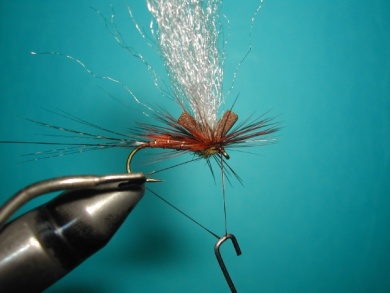 Step 8
Cut the excesses of two foam strips.
Step 9
I lift the two part of yarn and cut the excesses.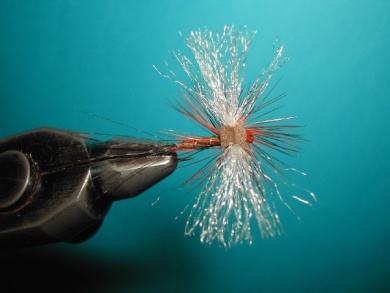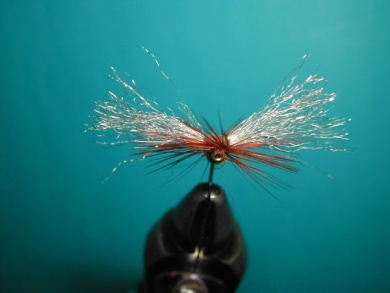 Step 12
Fly view from below