I always considered the tying Paraloop incomplete because, even if it highlight the entire body of imitation and provide it an awful lot rooster's fibers support, cannot provide it vertical wings, key feature of the ephemeral. The only wings that we can insert in the tying are those of the spen View more...
Move the mouse over the image to zoom in the fly. Touch the image to zoom in the fly.
List of materials
Hook TMC 100 size 14 Thread: Black 8/0 Tails: Gallo Pardo body: stripped peacock quill Hackle; rooster hackle Wings: White yarn tied with Nylon monofilament 0,14 mm. in diameter
Steps
Step 1
I insert a tuft of yarn into a Dropper knot.
Step 2
I clench the knot.
Step 3
Here are the wings.
Step 4
I tie the tails and body on a right hook.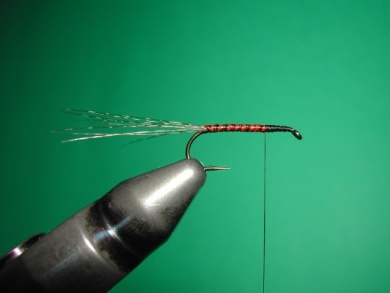 Step 5
I make a loop with the nylon thread, on which I tied the wings, and tie it on the hook
Step 6
I hook the loop to the tool parachute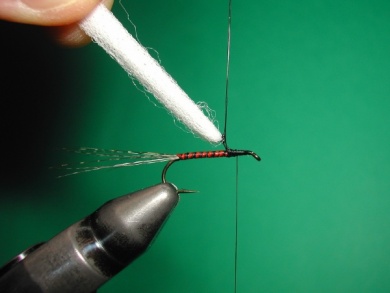 Step 7
I tie a rooster hackle under the loop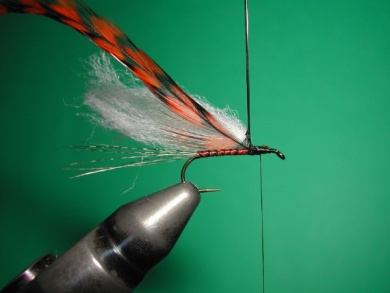 Step 8
I wrap the rooster hackle under the wings
Step 9
I wrap the rooster hackle over the wings
Step 10
I go back with the hackle and tie it on the hook.
Step 11
I cut excess of hacle.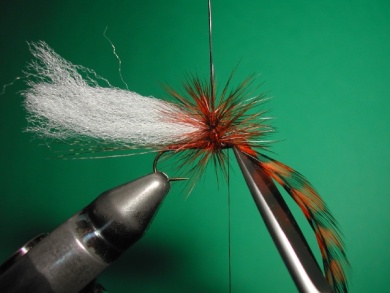 Step 12
I take off the loop from the parachute tool and tie it close to the eye of the hook
Step 13
I cut one of two thread of loop
Step 14
I lift the nylon thread remained, move it back and tie the head of the fly over it. In this way I have the certainty that the nylon thread (that is slippery) will not slip away from the knot of head .
Step 15
Cut the excess of the nylon thread
Step 16
I take off the fly from the vice and establish the height of the wings with a cut.