Gebunden und fotografiert von R.ThurnerDieses Muster ist eine Köcherfliegen-Imitation mit einem dachförmigen Flügel, der diese Nachbildung sehrrealistisch darstellt.
Move the mouse over the image to zoom in the fly. Touch the image to zoom in the fly.
List of materials
Material:Haken: Trockenhaken, Größe 14 bis 20Faden: Braun oder schwarz 6/0Schwänzchen: Hahnenfiber, braunKörper: Opposum Dubbing, lichtbraunFlügel: Fibern von Hahnenhechel, braun ,sowie ein Segment von einem GoldfasanstoßHechel: Hahnenhechel, braunFühler: Federkiele von HahnenfederKöpfchen: Bindefaden
Steps
Step 1
Grundwicklung legen und Schwänzchen einbinden.Körper mit braunen Dubbing formen und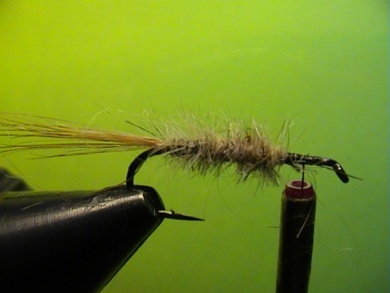 Step 2
Flügelfibern einbinden.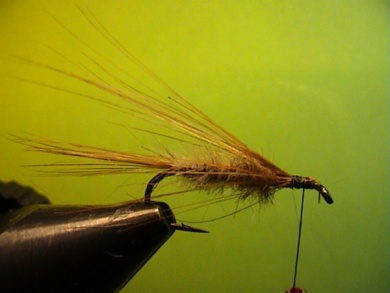 Step 3
Hahnenfederkiele vorbereiten und als Fühlersowie Hahnenhechel einbinden.
Step 4
Vorlackiertes und zugeschnittenes Stoß-federsegment vom Fasan aufsetzen und niederbinden.
Step 5
Kopfhechel winden und vor dem Hakenöhr einbinden.
Step 6
Köpfchen mit Bindeseide anfertigen und lackieren,fertig ist die Köcherfliege !!!