Gebunden und fotografiert von Rudolf Thurner Kommentar: Ein Muster von Casten Scharf.Die aufsteigende Köcherfliegenlarfen wirdleicht zur Beute fressfreudiger Fische.
Move the mouse over the image to zoom in the fly. Touch the image to zoom in the fly.
List of materials
Materialliste:Haken: Gekrümmter Nymphenhaken, Größe 10-14Bindefaden: Schwarz od.braun 10/0Schwänzchen: Naturbraunes RebhuhnRücken: Magic Shrimp-Foil (Perlgreen)Rippung: Monofil 0,16 bis 0,20Körper: Grüngelbe DubbingmischungFlügel: Schwarze CDC-FederThorax: Hears Ear DubbingAntennen: Dunkles Elch od. Dachshaar
Steps
Step 1
Nach der Grundwicklung einige Grannen von Rebhuhn-Federn als Schwänzchen einbinden.
Step 2
Drei Zentimeter lange Folie und ein Monofil für dieRippung anlegen.
Step 3
Mittels einer Dubbingschlaufe Körpermaterialverarbeiten.
Step 4
Die Folie wird Richtung Öhr geklappt und unterleichtem Zug abgebunden. Mit dem Monofil rippenwir. den verbleibenden Folienrest nach hintenklappen und beschneiden.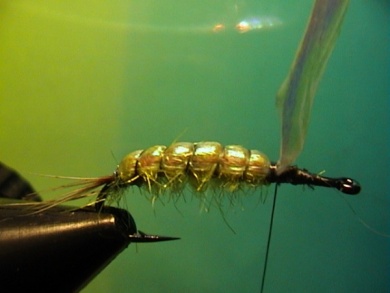 Step 5
Je zwei schwarze od.braune (nach belieben) CDC-Federn werden seitlich, unterhalb mit den Spitzen eingebunden.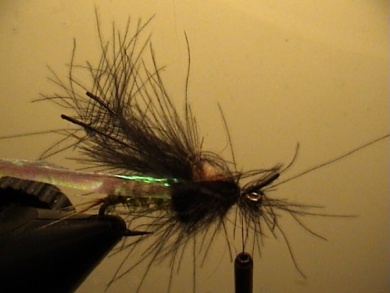 Step 6
Nun werden die CDC-Federn über den Thorax vor dem Öhr plaziert.
Step 7
Federkiele kurz abschneiden, Grannen einbinden, erneut ein wenig dubben und mittels eines Kopfknoten abschließen.