My favorite egg sucking leech. Easy to tie. Very customizable. Very effective with its erratic, pulsing action.
Move the mouse over the image to zoom in the fly. Touch the image to zoom in the fly.
List of materials
HOOK-Size 10-2 octopus style hook. (Your favorite brand, these are Laser Sharp's.)TAIL-Purple rabbit zonker. (about 15cm long)EGG-Rubber egg (orange) or glow bead.RIBBING-copper-wireTHREAD-2/0 white (I use whatever I have on my bobbin.)
Steps
Step 1
Put the egg/bead on the hook and start your thread,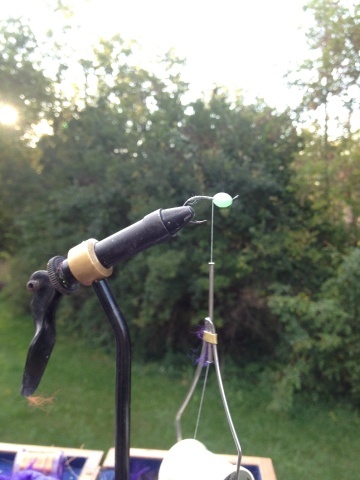 Step 2
Tie in your copper wire and advance thread to the back of the bead/egg.
Step 3
Divide the hair of your zonker about 9cm from the end and tie in directly behind the bead/egg.
Step 4
Divide the hair as you did when you tied in the zonker, and wrap the copper-wire towards the bead/egg about five even wraps should do it. Tie off wire.
Step 5
Take 3-4 wraps of the zonker, tie off, remove excess, whip finish and cement.
Step 6
CATCH FISH!!!!! Tight Lines Everyone!!