The SPC is a very simple and fast tying fly for big hunters like pike or danube salmon. I speciallyuse it for pikes. The materials are all available in different colors so there are many options and combinations of patternspossible. I think it's a great fly for f View more...
Move the mouse over the image to zoom in the fly. Touch the image to zoom in the fly.
List of materials
Hook: Gamakatsu F 314 2/0Eyes: H2O 3D plastic DumbbellsThread: UTC GSP 75 8/0 Rabbit-Zonker SLF Hank Crystal Flash Grizzly Barred Rubber legs
Steps
Step 1
Tie the 3D plastic Dumbbells on the hook. It´s a good idea to use glue to fix it.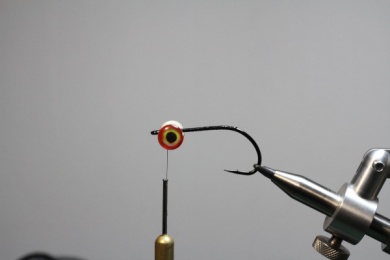 Step 2
Now use the SLF Hank. Tie it strong on the hook and it shod be 7 cm long and cut it in a nice shape like the picture show.
Step 3
Now use a little bit of dubbing to cover the hook. Behind the eyes tie on the crystal-flash It should be 12 cm long.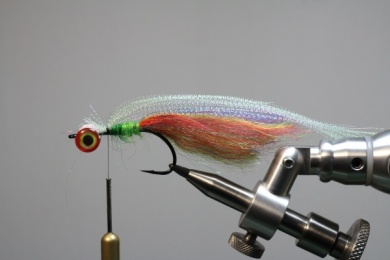 Step 4
At the same point you tie on the rubber-legs and a rabbit zonker. The zonker should be the size of the crystal flash.
Step 5
At the end use the second zonker and wrap it around the Hook behind the eyes. You can use dubbing to cover the place between the eyes.
Step 6
Done! Try it in many different colors. Have fun and tight lines.