Fly fishing is something much deeper than catching fish, and something similar happens with fly tying, where a passionate fly tyer can find amazing stories and knowledge that will be invaluable in the river.
The Tup's Indispensable is a fly that has well earned its place in history, as it is not on View more...
Move the mouse over the image to zoom in the fly. Touch the image to zoom in the fly.
List of materials
Hook:
G.M.E Skues used mainly size 00 hooks with a sneck bend made by Hall's. today only collectors have them, so I use a Partridge L2A, or similar ones, with a perfect bend in sizes 14 or 16. The size 00 today is practically a 16.


Thread: Pearsall's Gossamer made of natural silk. Color: pimrose yellow. The Pearsall's is a very traditional thread in classic English flies. You can still find it and it's a pleasure to tie traditional flies with it. The silk's shine cannot be found View more...
Steps
Step 1
Tie the tail with the rusty dun hen fibers, use very few fibers. The tail must be short.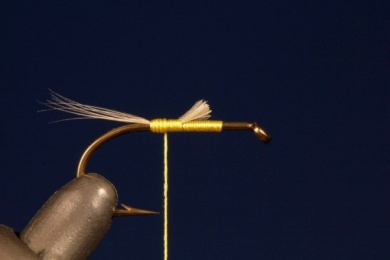 Step 2
Leaving 3 or 4 turns of yellow thread on the back, shape a tapered body with the dubbing mix by Austin and Skues. It has an amber tone with a pinkish hue.
Step 3
Tie a hen feather (with short fibers) by its tip. Color: rusty dun. You can compare the length of the fibers with the hook gap and shank to check the proportions.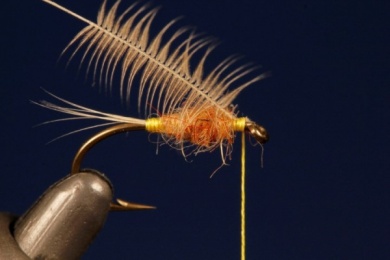 Step 4
Comb the hen feathers to the back softly so we don't break the raquis.
Step 5
Wrap with 3 turns of the feather, keeping the fibers to the back.
Step 6
Finish with a very small head and cement (with the cement you prefer). I use a touch of cyanoacrilate cement, followed by a touch of shiny varnish that dries slowly but endures much more than a lacquer varnish.