In 1994 it was published in the Italian Fly fishing magazine "Fly Line", a my articles where I proposed to bend upwards the stretch near eye of a hook shank right, to give the fly more balanced and stable in water.
Wrapping a rooster hackle around the hook shank section bent upward, the fibers of h View more...
Move the mouse over the image to zoom in the fly. Touch the image to zoom in the fly.
List of materials
Thread 8/0 Hook grub bent size 12/14/16 Tails: Coq de Leon fibers Ribbing: copper wire Body: Poliester thread Hackle: rooster Wings: Two rooster hackle tips.
Steps
Step 3
Second and final bending
Step 4
Tie in the vise a hook bent as described above, wrap the thread on it and choose a rooster hackle (Coq de Leon) from which to get the fibers to imitate the fly tails.
Step 5
Tie on the bend tails and a copper wire.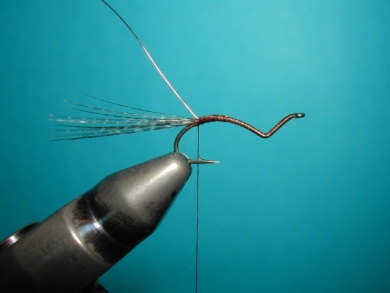 Step 6
Tie on the stem the yarn to form the abdomen.
Step 7
I do the abdomen of the fly, tie the yarn on the stem and cut the excess.
Step 8
Wrapped in wide turns the copper wire on the abdomen, tie it on the stem, and cut the excess.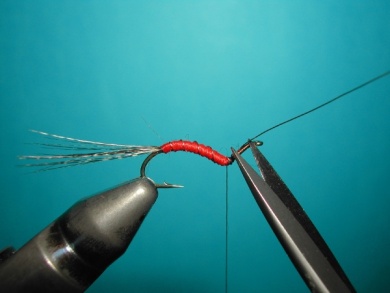 Step 9
I moves the fly so that the bent hook is level and choose two tips of rooster hackles to form the wings.
Step 10
Tie the hackles on the hook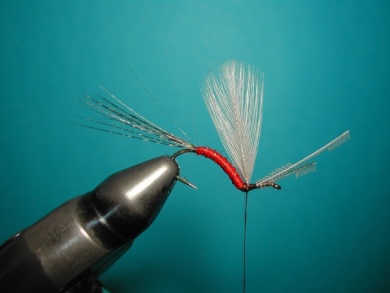 Step 11
Tie a rooster's hackle beside the wings and cut the stem surplus.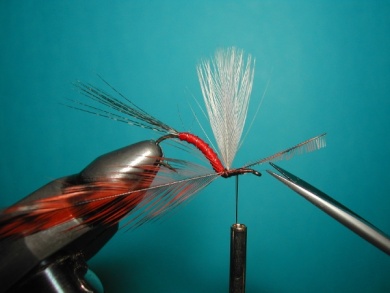 Step 12
I wrap the hackle around the hook shank.
Step 13
Tie the hackle next eye of hook and cut excess.
Step 14
Tie the head of fly.