I learned about this fly some time ago, when I first started in the Fly Fishing guide business. My co-workers told me to look for it in the Montana Fly Co. directory. At first I thought it was just another kind of Chernobyl ant, but time showed me that it was much more than simply "another kind of C Ver más...
Deslice el cursor sobre la imagen para visualizar la mosca con zoom. Deslice el dedo sobre la imagen para hacer zoom.
Listado de materiales
Hook: #8-12 hopper hook. Thread: 3/0 black. Body and Thorax: Red ice dubbing. Legs: Round rubber legs - Black. Wing / Indicator: White Polypropylene Yarn
Pasos
Paso 1
Wrap the thread around the hook shank.
Paso 2
Make a thick body of red dubbing.
Paso 3
Tie the black foam just before where the hook bend start.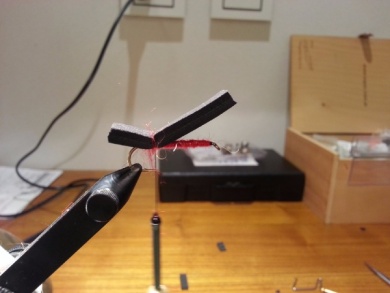 Paso 4
Tie one pair of rubber legs at each side of the fly. Add a couple of wraps with dubbing just to cover the black thread.
Paso 5
Add another pair of rubber legs on each side of the fly just where the thorax of the fly should be.
Paso 6
Tie the white wing / indicator and add a couple of red dubbing for the thorax. Finished fly.