In January of 2005 I was surprised when I saw a young american angler at the Manzano pool in the Chimehuín River (Patagonia). Not only by the way in which he casted and mended the line, but also because he caught five rainbows (some pretty decent) in about twenty minutes time at this spot that gets View more...
Move the mouse over the image to zoom in the fly. Touch the image to zoom in the fly.
List of materials
MaterialsThread: 8/0, black.Head: Bead head, silver or gold.Tail: pheasant feather collar fibers.Abdomen: flat silver tinsel.Thorax: peacock herl fibers.Wing case: flat silver tinsel.
Steps
Step 1
Place the bead head on the hook and then set the hook on the vise.
Step 2
Tie some pheasant feather collar fibers to makethe tail.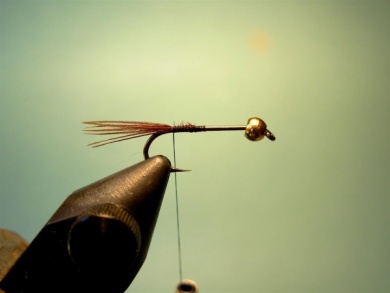 Step 3
Tie the flat silver tinsel next to the base of the tail and make the underbody with the thread. This should have a conic shape, getting thicker as it gets closer to the head of the fly.
Step 4
Wrap the flat silver tinsel to shape the abdomen and cut.Tie the flat silver tinsel again on the hook shank, right where the thorax will begin.
Step 5
Tie off 4 or 5 peacock herl fibers in the same place as the flat silver tinsel. This will work as a wingcase.
Step 6
Wrap the peacock fibers shaping the thorax.
Step 7
Turn the flat silver tinsel and tie it next to the bead head. Tie off and cement.