Anytime during the season, the PMX Sparkle Orange works like real dynamite in fast waters. It can be tied with different combinations of colors, being especially effective the ones with orange legs and the ones that resemble a Royal Wulff. Skating this fly at the last hour, the results are explosive and violent. In lakes, it never fails when fished over log stumps and close to reed beds.
Move the mouse over the image to zoom in the fly. Touch the image to zoom in the fly.
List of materials
MaterialsHook: Daiichi 1720, sizes ranging from 4 to 10.Thread: 6/0 or 8/0, brown or black.Pole: Enrico Puglisi yellow, white or orange EP-fibers.Tail: Elk body.Wing: Elk body.Body: Peacock Herl and hareline ice dubbing, orange, yellow or red.Legs: Rainys, barred.Parachute Hackle: Whiting, grizzly saddle or neck.
Steps
Step 1
First, tie a short elk-body hair tail.
Step 2
Use 6 peacock herl strands to shape the back section of the body, as if it were a Royal Wulff.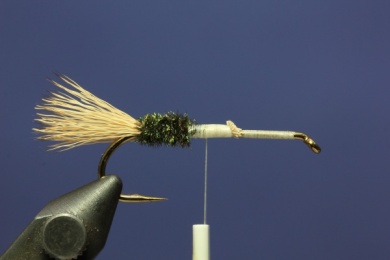 Step 3
Shape another third part of the body with ice dubbing.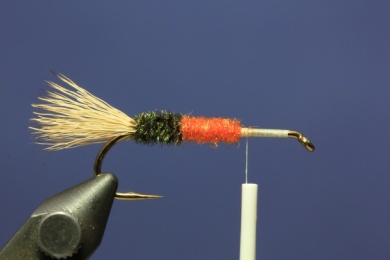 Step 4
Tie the elk wing without covering the tail.
Step 5
Tie the EP-fibers pole.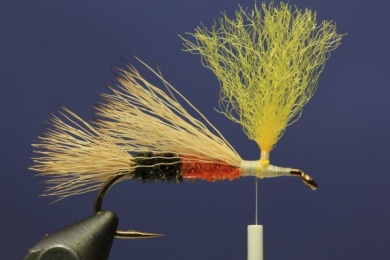 Step 6
Tie the grizzly feather pointing upwards and some more peacock herl.
Step 7
Tie the rubber legs in an X-shape, before and past the pole, where we will then wrap the grizzly feather.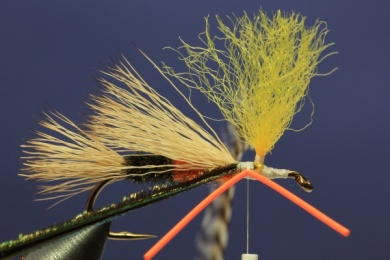 Step 8
Take the peacock to the front of the fly, tying it at the head.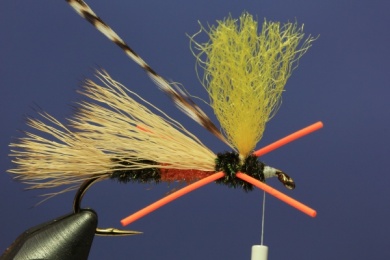 Step 9
To finish the fly, wrap the hackle making the parachute with 4 upward turns, then 4 downward turns and tie the remnant without pressing the head fibers. Cement the knot with an adhesive of your choice.